Guest post by my lovely sister: Anchal
Our journey to Delhi (coming back from Agra) was adventurous. Highly frustrated with the long wait at the Agra Railway Station…OMG our train was over an hour late. Bearing the heat was the biggest fear. We managed to find a seat in an air conditioned waiting room. I doubt if the AC was switched on. Anyways, after a long wait, we went to the platform to discover a non Indian chap even more frustrated. Hehe and Annkur couldn't have missed clicking him; and, why not? They make movies on Indian slums, we just got a picture.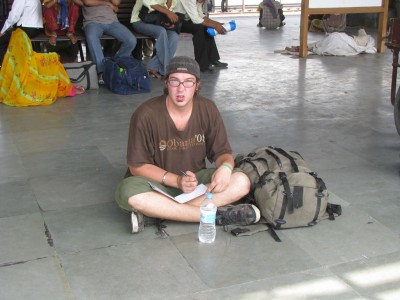 And then the conversation began… Mr. Ohio truly inspired by "Jab We Met"  (that was the last Hindi movie he saw :P) booked a train ticket to the capital without realizing the difference between an AC coach and a General Coach. But then, the sight of 200 people traveling together in the same coach in this heat scared him. And annkur inspired by Aamir Khan helped him get out of this. Hmm… negotiations with the TC fetched Mathew a seat… point to be noted: I and annkur had to share a seat. Mathew somehow managed to fit into that berth…I don't know if he was too giant or the berth was too small.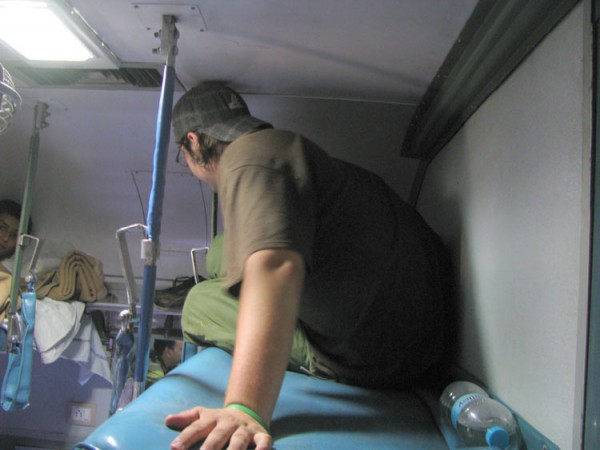 Nice guy he was, studying films in Bangalore… This gave us a point to discuss; movies ranging from Jab We Met to Dev D and Deepa Mehta to Mira Nairji.
I hope that he has got his camera repaired by now. Lets see if he meets Annkur on the 19th of this month when he lands in Mumbai.