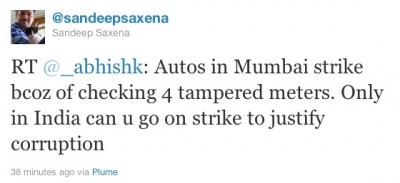 A few weeks back, on a fine Sunday afternoon I was seen tweeting about help required around Goregaon / Malad (Mumbai) to take a fraudulent Auto-rickshaw driver to a nearby Police Station. I had promised to share more details on my blog and here we go!
Yesterday Mumbai saw a flash strike by auto rickshaw drivers which apparently wasn't called by their union. Newspapers are reporting hundreds of rigged auto meters lying at workshops as auto-walas panic to get them 'un-tampered' given the recent RTO drive against them. As my friend Sandeep RTs above … Only in India you can dare to go on a strike, justifying an act of cheating.
What happened that Sunday was a simple story. I took an auto from Andheri highway to Goregaon Oberoi Mall. The auto driver wasn't in uniform and while that was least of my concern, as we reached the destination (Oberoi Mall, Goregaon) I realised he was trying to overcharge me. The meter reading was 4.80 and the auto-driver asked me for Rs 64.
I happened to knew the formula for calculating the auto-fare after the recent change in tariffs (Thanks M4Mum/Raxit). So when the auto rickshaw driver asked mr for Rs 64, I got a little suspicious and casually hit the calculator on my mobile. For the ones who want to note, the formula is x13 –2 (multiply the meter reading by 13 and subract 2 from the total.)
The calculation in my case came to 60.4 and not 64. A small difference. I confronted the auto wala and he showed me a fare card. It was certainly a fake one, for fares above Rs 80 his tariff card showed amounts higher by Rs 10 or more. I told him that he is cheating & he suggested me to forget the 4 rupee difference as a loan and asked me to go. Yes, WTF.
I took the fare card and told him to take me towards the mall on the opposite side, where there were quite a few police vans given it was near about independence day. The auto-wala realized that I am not going to relent and snatched the fake fare card from me. He agreed to go on the opposite side but insisted on holding the rate card with him. I had to choose, either hold on to the tariff card or protect the iPad in my hand.
I allowed him to hold the tariff card, but remained seated in the auto. As he took a U-turn towards the mall, he hit the right lane and went towards the highway, ignoring all instructions to stop at the mall. I panicked and called a Murtaza (a young entrepreneur) who was going to meet me at the mall. He was holding on to the rate card  until we crossed the mall but it had disappeared by the time we reached the highway. I quizzed and he told me its in his pocket.
Luckily I found a traffic constable at the highway right where we stopped and shouted for him to help. As the constable took stock of things, suddenly two original rate cards came out of the auto-walas pocket and the story changed to me not having enough money to pay him. I couldn't believe that such inauthenticity is happening right in front of me. I called in my friend Murtaza to the highway and asked him and a friend accompanying him to look for the rate card that he might have thrown on the road near the mall. While I argued with the auto-wala, Murtaza and his friend returned 10 mins later with the fake rate card in their hands. Bingo, we had the proof now and we were 3 vs 1.
The auto-wala still remained arrogant and denied the charge. We insisted the constable to take him to the police station and were surprised when he just took his license and gave it to us, asking us to take him to the Police Station ourselves (the auto wala was expected to drive us down.) A couple of mins later the constable suggested that we leave him as he will get f****d at the police station. He even made the auto-wala apologize. I insisted on booking him.
We three took a seat inside the auto and asked him to head towards the police station. He moved a little ahead on the highway and started pleading us to leave him. Offered to take no money for the ride from Andheri and a little later even offered to pay Rs 200 to us. We told him in no unclear terms that we are all headed to the police station. He didn't comply, took a U-turn on the highway and tried to drop us at Oberoi Mall.
Luckily we again ran into a couple of cops (this time not the traffic ones) and asked them for help. They gave the auto-driver some good gaalis, questioned him about the missing uniform and handed his badge to us (his license was already with us.) He asked us to be firm and take him to the Police station. And there we go again. The auto-wala tried his best on the way asking for forgiveness, stopped a couple of times, but it took a little polite gyaan that 'the more he wastes our time, the more he will suffer' for us to reach the police station.
At the police station one of the cops just asked us to drop him there, leave my contact details and go away. No report, no paper work, nothing! We knew nothing about the regulations. They said he would be fined. We insisted on knowing what action they are taking and after spending some 20 mins at the police station, we left. Last we saw was the fact that he had been taken inside and they were in process of charging him. We were told that he would be made to wait there for several hours and it makes no sense for us to wait there. Guess we had enough for the day already …
The total incident lasted little over an hour, was intense and I was scared on multiple occasions.  If it was so much effort to just take a certainly corrupt auto rickshaw driver to Police Station, I wonder what happens in bigger cases. God bless the system.
Special thanks to Murtaza and his friend (guess Gaurav) for the support.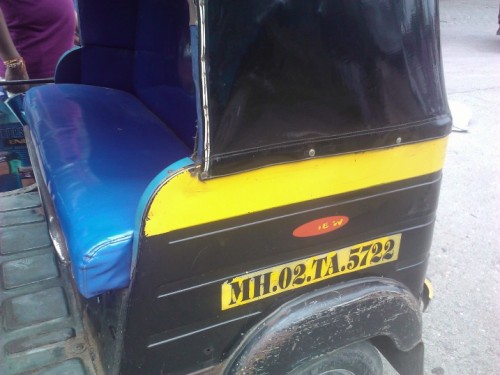 Things happened in a hurry and this is the only photo I could manage to click in between the chaos. After we reached the police station, I was out of time to click any more.
As always, most commenting on the post is on FB. You can see it here