We saw a controversy around CJ's Berlin visit with Samsung today. The story is evolving and a lot of to and fro would happen. I don't want to get into that here. I tweeted about an incident where we were offered Nokia T-shirts to wear on a trip to Goa where the Belle series were introduced. I along with a couple of others didn't wear it. Some bloggers who are taking great offense to Samsung's treatment to CJ agreed to wear a Nokia t-shirt and being filmed / photographed during the trip.
Now before I make my point, here I am not pointing out malpractices by any company or something that I have an objection too. My point is about my conduct as a journalist / blogger.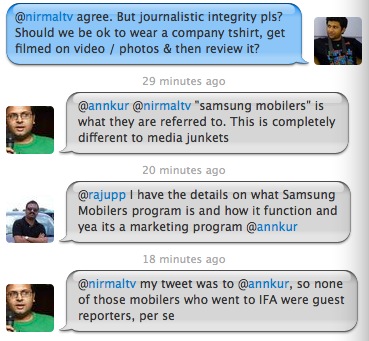 My friend Raju suggested that the bloggers (or some bloggers) visiting Berlin with Samsung aren't reporters on a media Junket. They are part of a marketing program called 'Samsung Mobiles'. That is debatable, but let's consider it too.
If I were to be a Samsung Mobiler (under a marketing program and not a reporter) and I also run a technology blog. I might even give a quote or two for a local newspaper about technology and tweet my opinions on the tech industry. The question is, shouldn't my audience, the reader know about my affiliation with Samsung under a marketing program if I am writing about Nokia or HTC or any other mobile company for that matter?
Consider the flip side, if I am visiting Berlin under the Mobilers program believing myself to be a journalist / reporter, how would my readers trust me if I am wearing a 'Samsung T-shirt' and covering their products? Doesn't that reflect bias?
During my time at OnlyGizmos, this was a tussle I had with the environment at times.
I may not know what Mobilers is, but no matter how we brand it, a marketing program or a modified media junket, it raises doubts on how the journalistic integrity is maintained.