Attending Blog Camp Pune 2 at SICSR (Symbiosis) was a great adventure. We (myself, ankesh, tarun, thakkar) left right after the monthly #Aptw tweetup in Mumbai (thats around midnight). At past 3AM we were hunting for some humans on empty Pune streets to ask for directions towards ThakkarJr's house. Not sure what time we reached there but we enjoyed Pani Puri's that were waiting for us and theplas that my mom packed with me.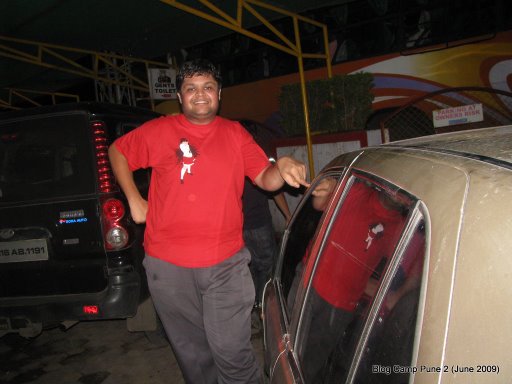 the car we rented actually had a breakdown and we had to push start it .. #adventure
So what happened @ Blog Camp Pune 2? Reading reactions all over the web, I have realised that I like to read one liners 🙂 – So my reactions in one liners-
————
incomplete ….
Meetu kicked off the Blog Camp (@Thakkar happily gave his slot to her). She managed to engage the crowd really well. This was followed by @ankeshk and myself.
Navin spoke on what blogs can learn from newspapers. Though I missed it, I was lucky to catch up with Navin while traveling to the tweetup later that day.
Thakkar took over the entire camp … rather the popular demand for Thakkar took over the entire camp.
Was nice meeting Jim Karter …  Myself and @farrhad caught up with him the day after the Camp and were treated with a wonderful dinner and gyaan sharing session.
I share similar feeling as @manan does. Unconference should be structured, else #fail. Making it structured allows people to plan what they want to attend and what not. (leaving some small open sessions in between is also good)
I stayed back till monday afternoon at @farrhad's home in Pune. Trip back to Mumbai was lonely, I caught up with some much needed sleep.
————
After 6 months of attending BarCamps, BlogCamps, StartupSaturdays etc, I decided to take a session at BlogCampPune 2. My talk was revolved around the mistakes that beginners make while starting up as a blogger (mainly my experience blogging and observing others around me). I had to rush with my talk as I was allotted very limited time, but some fireworks were seen as I termed bloggers concentrating on social media early on as a mistake.
I hope to get the videos I recorded at the event online asap.
Since I am one of the last ones to write about BCP2, here are the links to some popular reactions to the same:
Photos I took taken from my cam at the event are live here
Update: Video snippet of my talk is here