With most e-commerce players in India moving towards a marketplace model, I have been intrigued as to why eBay.in (Baazee) isn't the talking point when it comes to e-commerce. They are THE marketplace, they have their own payment gateway since ages and I know first hand that they have done a ton of leg work to get good resellers on board, educating the ecosystem, finesse the dispute resolution process and get an huge variety of inventory online. It is very tough for marketplaces to standardize the supply and give the consumers a good experience!
Here are a few recent incidents with Flipkart. Note: I have high hopes from FK, but not at all from Snapdeal, do see this as an optimistic feedback. I am not even bothering writing about Snapdeal, my only purchase from them was a bad experience and I have heard many negative reviews and hence Flipkart gets my attention & criticism. 
Incident 1: I purchased a Age of Mythology game from Flipkart recently and got the product via a reseller in Delhi. The packing was ordinary (I have been spoilt by WS Retail's shipping) and I had a faint doubt if the game is pirated. It worked, but I wasn't 100% convinced. I am still not convinced, but I think it is a genuine game. However the distributor / importer & MRP sticker was missing from the pack I received and that makes me skeptical. I asked my friends on twitter and here are the tweets exchanged. For once, I am not 100% convinced on the quality.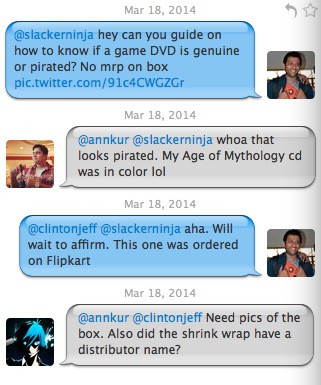 Incident 2: Read More