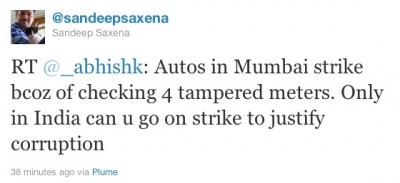 A few weeks back, on a fine Sunday afternoon I was seen tweeting about help required around Goregaon / Malad (Mumbai) to take a fraudulent Auto-rickshaw driver to a nearby Police Station. I had promised to share more details on my blog and here we go!
Yesterday Mumbai saw a flash strike by auto rickshaw drivers which apparently wasn't called by their union. Newspapers are reporting hundreds of rigged auto meters lying at workshops as auto-walas panic to get them 'un-tampered' given the recent RTO drive against them. As my friend Sandeep RTs above … Only in India you can dare to go on a strike, justifying an act of cheating.
What happened that Sunday was a simple story. I took an auto from Andheri highway to Goregaon Oberoi Mall. The auto driver wasn't in uniform and while that was least of my concern, as we reached the destination (Oberoi Mall, Goregaon) I realised he was trying to overcharge me. The meter reading was 4.80 and the auto-driver asked me for Rs 64.
I happened to knew the formula for calculating the auto-fare after the recent change in tariffs (Thanks M4Mum/Raxit). So when the auto rickshaw driver asked mr for Rs 64, I got a little suspicious and casually hit the calculator on my mobile. For the ones who want to note, the formula is x13 –2 (multiply the meter reading by 13 and subract 2 from the total.)
The calculation in my case came to 60.4 and not 64. A small difference. I confronted the auto wala and he showed me a fare card. It was certainly a fake one, for fares above Rs 80 his tariff card showed amounts higher by Rs 10 or more. I told him that he is cheating & he suggested me to forget the 4 rupee difference as a loan and asked me to go. Yes, WTF.
I took the fare card and told him to take me towards the mall on the opposite side, where there were quite a few police vans given it was near about independence day. The auto-wala realized that I am not going to relent and Read More